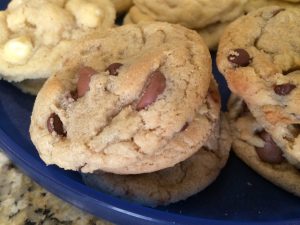 So we've been on a quest for a really good chocolate chip cookie recipe.  Most of the ones that you get out of books are good but we were looking for a great one.  Even going and getting cookies from bakeries they came up a little short.  We've looked and looked all over the internet and finally found a great chocolate chip cookie recipe.  We only changed it a little.  Since we are at high altitude it is really important to add more structure to your cookies, meaning you need to add more flour.  If you are at sea level just take half a cup of flour out of the recipe.  There are a lot of chocolate chips in this recipe but it turns out really good.  Photos are Below.  You should definitely try these Chocolate Chip Cookies.  They are awesome.
Chocolate Chip Cookies
Prep time:
Cook time:
Total time:
Adapted from savorysweetlife.com
Ingredients
½ cup butter
½ cup crisco (I like using the butter flavored)
½ cup sugar
1½ cup packed brown sugar
2 eggs
2 teaspoons vanilla extract
3¼ cup flour (at sea level 2¾ cups)
1 scant teaspoon kosher salt (3/4 tsp regular salt)
1 teaspoon baking soda
1½ teaspoon baking powder
6 oz mini semi-sweet chips (apprx. 1 cup)
10 oz milk chocolate chips (apprx. 2 cups)
Instructions
Preheat oven to 350 degrees.
Cream butter, crisco, sugar and brown sugar until light in color and fluffy.
Stir in eggs and vanilla.
Add salt, baking soda, baking powder and half the flour. Mix on low.
While your mixer is on low, slowly add the rest of the flour until all is incorporated.
Fold in chocolate chips. The batter will be thick.
Drop tablespoon heaps onto cookie sheet.
Bake 8-10 minutes, until the edges turn golden brown.