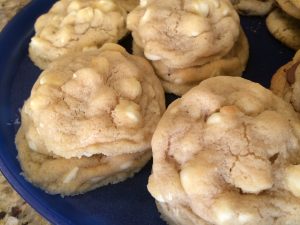 I like trying new recipes.  I have friends with the same world view.
One of my friends tried these Lemon White Chocolate Cookies, and made a huge "mistake".
She was making these cookies for the first time and read the ingredient list wrong.  Instead of 1 Tablespoon of lemon juice, she put in 1 Tablespoon of lemon extract.  Yep, you read right, lemon extract.  The cookies turned out with a very strong lemon flavor with the white chocolate smoothing it out.  For those of us who like lemon it was actually really good.  The next time she made them, she decided to follow the recipe because if they turned out good with the extract they should be good with the right ingredients, right?  Wrong!  They were okay, I guess.  Kind of bland with no real depth to them. Nothing special.
So she went back to the book, scratched out juice and wrote in extract.  Now I have a great lemon cookie recipe because she didn't read the recipe right.  I don't put in the nuts because some people are weird and don't like nuts in cookies but if you want to try it the recipe recommends walnuts or cashews.  I hope you enjoy these Lemon White Chocolate Cookies as much as I do!
This recipe was adapted from the book Nestle Collection.  It's an awesome book, and fairly inexpensive on amazon (I think it's out of print).

Lemon White Chocolate Cookies
Prep time:
Cook time:
Total time:
Adapted from the book Nestle Collection
Ingredients
¾ cup (1½ sticks) butter
½ cup packed brown sugar
¼ cup granulated sugar
1 large egg
1 tablespoon lemon extract
1½ cups all purpose flour
¾ teaspoon baking soda
½ teaspoon salt
2 cups (12 oz package) white chocolate chips
Instructions
Preheat oven to 350 degrees.
Soften butter, either leave it on the counter for a while or pop it in the microwave for 20 seconds.
Cream butter, brown sugar and granulated sugar together.
Mix in egg.
Add lemon extract.
Add salt and baking soda.
Slowly add flour while mixer is on low.
Fold in white chocolate chips.
Put on baking sheet in 1 tablespoon heaps.
Bake for 8-12 minutes, until the edges are lightly browned. Or longer depending on how crispy you want your cookie.