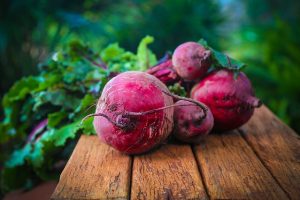 I was visiting a friend yesterday that has a large and wonderful garden, and I particularly noticed her beets, all in nice rows.  We got to talking, and I mentioned an amazing Beet Gratin recipe I have.  Was she interested?  Of course!  So I dug it out, and I am putting it here for perusal.
Sadly I did not create it or write it, etc, but I cannot now find it online, so to allow the world to have this creation I am putting it here.  It was originally Golden Beet Gratin, but I can never find those so I made it with regular beets, and it is the best beet dish I have ever had.
Enjoy!
Beet Gratin
Prep time:
Cook time:
Total time:
Best Beet dish I have ever had.
Ingredients
6-8 red beets
2 lb beet greens


¼ cup water
1 Tablespoon salt (for blanching water)


4 eggs, beaten
¾ teaspoon salt
pepper to taste
¾ cup milk
1 large garlic clove, minced
½ cup Gruyere cheese, grated
¼ cup Parmesan cheese, grated
1 Tablespoon Olive Oil
Instructions
Preheat oven to 425 degrees. Cut greens off beets, leaving ½" of stems. Scrub beets and place in baking dish. Add ¼" water. Cover tightly and bake 35-40 minutes, or until tender. Remove from heat and let cool.
Bring large pot of water to a boil. Stem and wash greens. Add 1 Tablespoon salt to water and blanch greens for a minute or two. Transfer to bowl of cold water, drain, squeeze out water, and chop coarsely. Set aside.
Preheat oven to 325 degrees. Oil 2-quart gratin dish generously with olive oil. Slip skins off beats and slice thin. Beat eggs, ¾ teaspoon salt, pepper, milk, garlic, and all but two Tablespoons of cheeses. Stir into chopped greens.
Make the gratin. Line bottom of dish with sliced beets, overlapping slightly. Add layer of the greens mixture. Continue to make 2-3 layers, depending on the size of the gratin dish. Be sure the top layer is beet slices. overlapping slightly. Sprinkle remaining 2 Tablespoons of cheese over beets and drizzle with olive oil.
Bake 35-40 minutes, until set and lightly browned. Allow to sit 10-15 minutes before serving, to cool slightly and finish setting the gratin. Serve hot or warm.