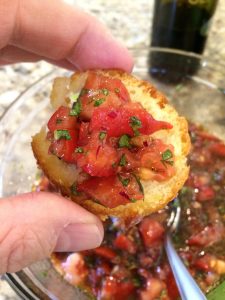 Ok, This will be a quick post.  We have a friend that has had our Tomato Relish and wants it, so here it is.
Oh, and the difference between relish, tapenade, salsa, chutney and all other sorts of toppings?
Quick overview.
Pickle: preserve (food or other perishable items) in vinegar, brine, or a similar solution.
Relish: A piquant or spicy condiment eaten with food to add flavor; specifically a sauce made of chopped pickled vegetables.
Chutney: a spicy condiment made of fruits or vegetables with vinegar, spices, and sugar, originating in India.
Salsa: a spicy tomato sauce.
Tapenade: a Provençal paste or dip, made from black olives, capers, and anchovies.
Basically, a relish is chopped and pickled vegetables, and a chutney is a particular type of relish (of which Tomato Relish is NOT).  Also, Even though this uses tomatoes, it is not spicy, so it is not a salsa.  Also?  No capers, olives, or anchovies, so tapenade is completely out.
"Relish" will have to do.
Chop up a couple of tomatoes.  Finely dice red onion.  Put them in a bowl.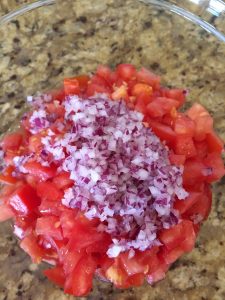 Chop some fresh basil (love that stuff!). Add it to the bowl.
Add olive oil and a good balsamic vinegar, salt and pepper to taste and stir together.  Oh, and a good balsamic vinegar should be a taste thing, not an expensive thing.  $18-20 for a bottle should be sufficient, don't go get that $60 bottle, and for the love of all that is good in the world, do NOT get the $4 bottle!  it won;t be balsamic vinegar, check the label.  If it says "musk wine", then ditch it; that stuff is vile and not actually balsamic vinegar.  Wine musk is the dregs at the bottom of the wine barrel after they take out most of the wine.  Eww.
We buy from Mountain Town Olive Oil Company in Provo, at the River Bottoms shopping plaza.
Oh, and the relish is great right after made, but even better after a few hours.  But not the next day, not so much, so eat it fresh.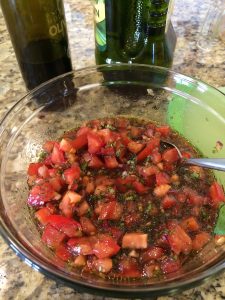 Buy or make some Crustini.  We bought here because we were in a hurry, but a decent loaf of crusty bread cut into 1/4″ slices, lightly brushed with olive oil then broiled until toasted will do just fine.  If you want to be authentic, cut a clove of garlic in half and rub all over the bread as soon as it comes out of the oven, while still hot.  Mmmmm.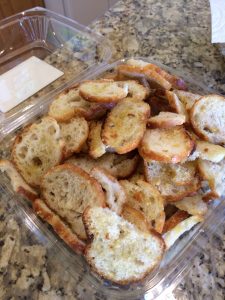 Put some of the relish on the Crustini and enjoy.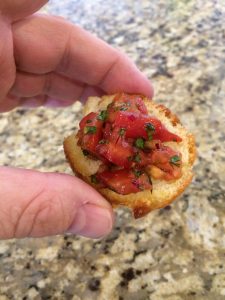 Tomato Relish
Simple, fresh, and delicious topping for Crustinis or crusty bread
Ingredients
4 cups diced tomato (2-3 large tomatoes)
¼ cup red onion, minced
¼ cup fresh basil, chopped
¼ cup balsamic vinegar
¼ cup olive oil, extra virgin
salt and pepper to taste
Instructions
Stir together all ingredients in a bowl.
May eat immediately, or let it blend for an hour or two. Eat while fresh, does NOT keep very well overnight.
Server with Crustini or on slices of crusty bread.