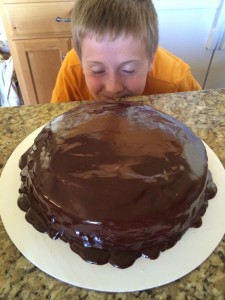 I love a good Yellow Cake.  It is the de facto cake for many a fine dessert, and if you have a good one, you will rarely find anyone who is willing to complain about it.  A good Yellow Cake is moist, with a delicate crumb and a little spongy.  Ok, technically, it is a sponge cake, or even called a butter cake, but everyone thinks of it as a Yellow Cake.  You know, because of the color.
(If you get a bad one, they are dry, crumbly, and hard to make taste good with anything.  So let's not make a bad one, ok?)
When we add a simple buttercream frosting, and you cannot go wrong.  Chocolate frosting and you have something wonderful.  Put strawberries and whipped cream on it, and you have something amazing.  Put pastry cream in it, with Chocolate Ganache over the top and you have Boston Cream Pie, which is spectacular.  I'll put that into another post, because it is really (REALLY) worth doing.
Today, however, is the sublime, delicate, and incredible Yellow Cake.
Mix the dry ingredients into a bowl, with a whisk or a fork.  Mix the wet ingredients into a measuring cup.  You can skip the stirring of the wet stuff.
Grease and flour your pans.  Cream the sugar and butter until light and fluffy, about 5 minutes.  Add eggs, one at a time, and blend in.
Alternatively add dry and wet ingredients in multiple additions, starting and ending with the dry. (You know: dry, wet, dry, wet, dry).
Divide the batter evenly between the two pans.  I use a scale to get them close.  They don't have to be perfect, but if they are close they will cook evenly.  Once the batter is divided into the pans, use a spatula to spread it out evenly.
Bake them for 30-35 minutes at 350 degrees.  Once a toothpick comes out with a few moist crumbs, but not goopy, set them on a wire rack for ten minutes.  Run a knife (plastic knife for non-stick pans!) around the edges and turn onto the wire rack, making sure they are upside down.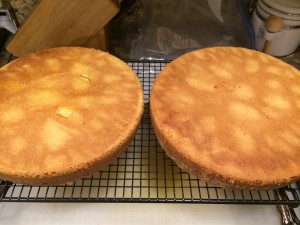 Here is the trick to keeping them moist and wonderful.  While they are cooling for the ten minutes in the pan, before you turn them out onto the wire rack, you need to make a simple syrup.  That is heating 1/2 cup water and 1/2 cup sugar over heat, stirring until sugar is dissolved.  The photo is of the syrup, with the sugar dissolved.  Ok, maybe not, but it looks the same.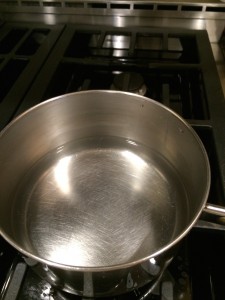 As soon as the cakes are turned out of the pans, you want to slowly coat the bottoms of the cakes with the syrup.  Spread it evenly, between both cakes.  You can tell that you are going at the right speed when it is soaking in and not beading up, or pouring around to any low spot.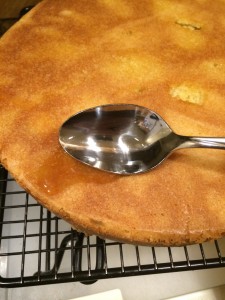 Once all the syrup is soaked in, let the cakes completely cool before you frost them or wrap them up for later.  I find they are even better the next day, so I wrap them tightly in plastic wrap and put them far back on the counter where the little kids don't play with them, leaving them upside down so gravity can continue to help the syrup distribute through the cake.
In case you're curious, my son helped me frost that cake.
Yellow Cake
Prep time:
Cook time:
Total time:
The divine, sublime, and delicious Yellow Cake
Ingredients
½ lb unsalted butter, room temperature (2 sticks)
2 cups granulated sugar, divided
4 large eggs
3 cups flour
½ teaspoon baking powder
½ teaspoon baking soda
1 teaspoon kosher salt
¼ cup water
¾ Tablespoon lemon juice
¾ cup (minus ¾ Tablespoon) milk
2 teaspoons vanilla extract


Syrup
½ Cup Sugar
½ Cup water


Frosting
Instructions
Preheat oven to 350°F.
Grease and flour 2x 9" round cake pans, lining the bottom with parchment paper, if desired.
Sift together flour, baking powder, baking soda and salt into a bowl. Set aside.
Combine ¼ C water, lemon juice, milk and vanilla in a measuring cup or separate bowl. Set aside.
Cream butter and 2 Cups granulated sugar in bowl of electric mixer until light and fluffy, about 5 minutes.
Blend in eggs, one at a time.
Add dry and wet mixtures to batter, beginning and ending with flour mixture.
Divide batter evenly between pans, smoothing the tops.
Bake 30 - 35 minutes, or until tester comes out clean.
When cakes are done, cool 10 minutes in pans on a wire rack.
While the cakes are cooling, make the simple syrup: combine ½ Cup granulated sugar and ½ Cup water in small saucepan, stirring over low to medium heat until sugar is dissolved.
Remove cakes from pans and set on wire rack (best to set upside down on rack so that syrup absorbs better).
Spoon simple syrup over cakes, slowly, trying to get even coverage.
Allow cakes to cool completely.