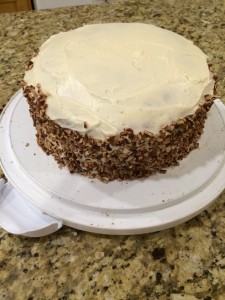 All growing up, my brothers and I wanted Grandma's Carrot Cake for our birthdays each year.  We could never get enough of it.  It was moist, flavorful, and mostly just plain awesome.
Years later, after getting married and moving around the country, I would order carrot cake anywhere that offered it.  And inevitably, my wife would say "but you don't like carrot cake".  My response was always "I LOVE Carrot Cake!"  And inevitably, I would be disappointed by the dry, or flavorless, or over-spiced thing I would receive.
Then one day i ran across an old recipe in an old box.  It was Grandma's Carrot Cake!  I had struck gold!  And my beautiful bride put up with yet another carrot cake rant about how awesome Carrot Cake is, and helped me make it.
Once done, her comment?  "THIS is why you like Carrot Cake!".  And she was right.  As usual.
Recipes from my Grandmother were always products of the era they were written in.  This recipe calls for one small, tall can of crushed pineapple.  Those are no longer sold in stores, and I had to research it and play with the recipe to figure out it was one cup (including the juice).
Also, I occasionally run into people who don't seem to like nuts.  It baffles me, but people should have the freedom to have their carrot cake their way, so I usually chop and toast the pecans and push them into the frosting on the side of a two layer round cake.  If they don't like them, they can scrape them off.  Well, unless they are allergic, in which case, you should probably leave them out entirely.
And now, some photos!
Grate, measure, zest, and set aside the parts that need to be grated, measured, and zested.
mix the sugar, eggs, oil and vanilla.
mix dry ingredients and add to the wet ingredients.
Add the coconut, carrots, pineapple and nuts (if using).
Stick it into your pan or pans and bake.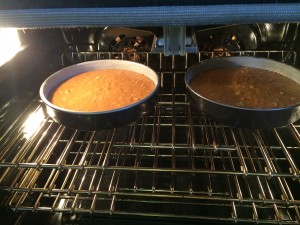 Get the once it's baked and cooled, make the frosting.
Then frost the cake, and add nuts if you want.
If you can, wait a day, as it's better a day later, but whenever you eat it, enjoy it!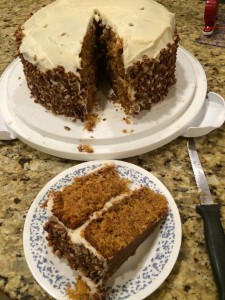 Doesn't that look good?

Grandma's Carrot Cake
Prep time:
Cook time:
Total time:
The best, most delicious, moist, flavorful carrot cake ever. Dare I say, World's Best Carrot Cake?
Ingredients
Cake


1 cups sugar
1½ cups vegetable oil
4 eggs
2 teaspoons vanilla extract
3 cups all purpose flour
2 teaspoons baking soda
2 teaspoons cinnamon
½ teaspoons salt
2 tablespoons grated orange rind
1 cup crushed pineapple with juice (One small, tall can)
½ cup shredded coconut
2 cups carrots (grated)
1½ cups nuts (pecans or walnuts) - Optional


Frosting


8 ounce cream cheese (one package)
½ cup butter (one stick)
2 teaspoons vanilla extract
16 ounce powdered sugar (confectioners sugar)
Instructions
Preheat the oven to 350 degrees. Grease and flour the pans (one 9"x13" or two 9" round).
Mix sugar, vegetable oil, eggs, and vanilla together until blended. In a separate bowl, mix together flour, baking soda, cinnamon, salt and orange rind. Mix flour mixture into wet mixture until blended. Add in the pineapple, coconut, grated carrots, and nuts (if using).
Pour into two 9 inch round pans. Bake at 350 degrees for 25 to 30 minutes (That's Grandma's directions, I find that I have to bake at 350 degrees for 35 minutes; your mileage may vary). You may also use a single 9x13 inch rectangle pan, and bake about 60 minutes. Cakes are done when a toothpick inserted in the middle is not goopy; a moist crumb or two is ok. Try not to overcook.
When done, (if using 9 inch round pans) remove from oven and let cool in pans for 10 minutes, then carefully remove from the pans and cool on a wire rack until completely cool. If using a rectangular pan, it may be cooled completely in the pan, although I think it turns out slightly better if cooled on a rack.
For the frosting, cream together the butter and cream cheese, then add in the vanilla and powdered sugar until blended and no lumps.