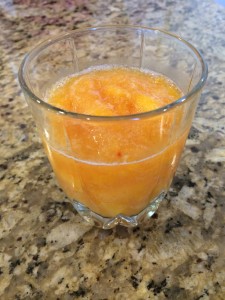 When I was young, my Grandparents owned a peach orchard.  That meant that when summer came around, we had peaches.  Good, ripe, delicious peaches.  Peaches and Cream.  Peaches over ice cream.  Even just biting into a sweet peach and having the juice drip down your chin.  It was wonderful.
The season each year would end too quickly.  She would can a lot of peaches for the winter, and it was good to have them.  We always appreciated it.  But what made the best treat for us, even better than ice cream, candy, and cookies, was Grandma's Peach Ice.
It's a frozen treat, with the almost-fresh taste of the peaches, but cold, slushy, and amazing.  We always wanted it, and Grandma would horde it a little and dole out potions throughout the winter.  We always wanted more.  I find that I am doing the same thing with my kids.  They would eat an entire batch in one sitting if I let them!  But I know better now.  A little at a time, over the winter months, and they will always appreciate it.  Just like Grandma used to do.
This is best with good, ripe, sweet peaches.   And of course that orchard is long gone, so we find the best peaches we can.  The better the peaches taste, the better the Peach Ice will taste; but you knew that already.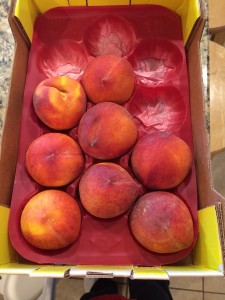 Start by making a simple syrup, by simmering the sugar and water together, stirring occasionally, until all the sugar is dissolved.  Set aside and cool completely.  And yeah, the photo looks like a pan with water in it.  That's what the syrup should look like when dissolved.  Really.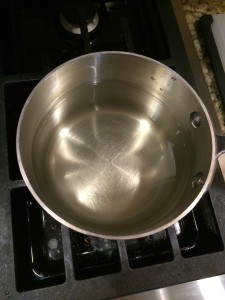 Meanwhile, you need to remove the fuzzy peel of the peaches.  It's good on a plain peach, but not so much in the ice.  David Lebovitz suggests cutting an X on one end of each peach, then putting them in boiling water for twenty seconds.  From there, put the into ice water just enough to shock them, maybe another 20 seconds, then onto a towel to cool.  Once cool, the peel comes off very easily.  It worked quite well, and you should totally check out his site, as he has some amazing recipes, and an incredibly good ice cream book.
(boil then shock and peel)
Remove the pits, and add the juice of one lemon.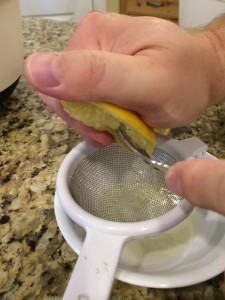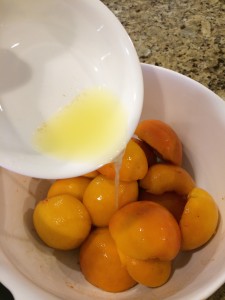 Now crush the peaches.  I like to use a potato masher, but use whatever you have.
Mix in the simple syrup, and put it in the freezer.
Scrape the ice every hour or so while it freezes to introduce air.  You don't have to do this step, but it makes it a lot easier to scoop later if you do.  (and if you don't, just let it thaw a little on the counter before you try and scoop it)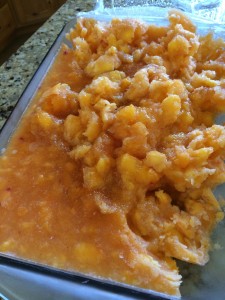 Once it is completely frozen, scoop some into a cup or bowl and add just a little bit of one of those lemon-lime soft drinks.  I like Sprite, but 7-Up, Fanta, Sierra Mist, etc, should all work.  And you just want a very little bit, then mix it into a slush.  If it doesn't slush, add a little more.  if you past the slush state, you can add more Peach Ice, or drink it instead of eat it.
Experience the sheer Awesomosity of Peach Ice!
And yeah, my wife reminds me that Awesomosity is not a real word.  And again, it should be, if for nothing else than to describe Peach Ice.
Peach Ice
Prep time:
Cook time:
Total time:
Best, most amazing, icy, cool, slushy peach awesomosity ever eaten!
Ingredients
4 cups water
1½ cup sugar


1 lemon, juiced


6 cups crushed fresh peaches, peel removed
Instructions
boil water and sugar into a simple syrup. Set aside to cool.
peel and crush peaches. Add lemon juice.
stir in cooled simple syrup
Put into freezer. As it freezes, occasionally scrape and mix to add air. Freeze completely.
To serve: scoop, crush, etc, some into a glass and add a very small amount of Sprite to make into a slush.