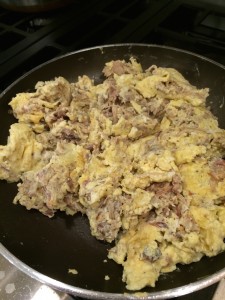 So you got a smoker, and you made a huge portion of Pulled Pork (because it's AWESOME!), and you have been enjoying yourself all weekend.  Monday morning rolls around and your spouse, significant other, or roommate says "you're not going to have yet another sandwich for breakfast, are you?"
Of course you were.  Why not?  but in order to insure domestic tranquility, you somehow find yourself saying "um, no.  I am going to make an amazing breakfast that you never thought me capable of and you will love it!"  Then you have to start thinking up some kind of amazing breakfast that you were never before capable of, so she will love it.
Introducing, Pulled Pork and Eggs!  Ok, so the name needs work, but it's drop dead simple and amazing.
Put a good sized chunk of the Puled Pork into a skillet, over medium heat.  Break it up and spread it around so it will all get nice and warm, making the entire kitchen smell like bacon. And yes, you may find that you also want bacon.  Try to stay on task.
Meanwhile, crack some eggs into a bowl, cup, dish, whatever, and mix them up with some pepper. (Don't need salt here, the seasoning on the Pulled Pork has plenty).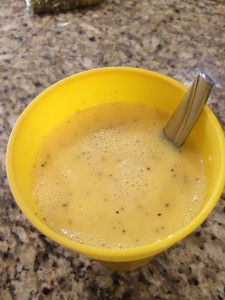 When the meat is heated through, pour the eggs over it, and cook them like scrambled eggs, turning occasionally.
Keep turning them, and stop when they still look a little underdone, as they will coast a while after you stop the heat.
Serve in a tortilla with anything that would go into a breakfast burrito (cheese, peppers, salsa, etc), or by itself on a plate, or hanging over the sink directly from the pan (don't judge me; we have all done it).