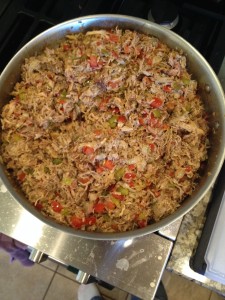 A few years ago, a friend of ours told us that her mother was visiting from southern Mexico.  Would it be OK if she came over to visit and bring her mother?  Would it be OK if she cooked at our house?  Would it be OK to mame some authentic Mexican Carne?
Well, yeah.  Definitely.
As a bit of background, I spent a few years in South America when I was younger.  I learned Spanish, at least the Uruguay version of Spanish, and I learned some Latino Culture.  Not all of it, of course; I was 20, so of course I wasn't the best for studying and learning.  But I did learn to speak the language.
Fast forward 20 years, and we had a very pleasant lady visiting us, who spoke very little English.  And my wife, who spoke very little Spanish.  And my habit of chatting and shooting the breeze pulling me off on my own discussions, rather than work as translator.  My wife had a difficult time of it, and it was a long night, but she really enjoyed the company and we watched, and asked questions, and we learned.  Carne.  Simple, delicious, and always a hit.
We use some of the meat from the Pulled Pork, but you can use whatever shredded meat you have, beef, pork, and probably chicken, though I haven't tried that.  If you don't have the time to smoke the pulled pork, you can put a pork shoulder or a beef roast into a crock pot with water, stock, veggies, V-8 juice, or whatever you have.  Cook it on low overnight, take it out of the pot and shred it with a couple of forks.
Start by chopping the vegetables.  We used three onions, two green peppers, and one Jalapeno.  Ok, it's best with a jalapeno, but the store was out, so the pictures have a small red pepper in them, I don't remember which kind; Red Fresno, maybe.  It's better with the jalapeno.  Also, feel free to use two or three of them if you like spice; one will add flavor and almost no spice; three may be too much for a general audience.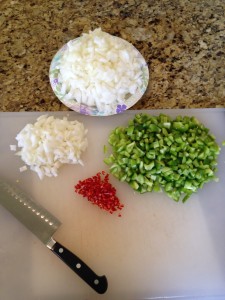 Add oil to to a large saute pan.  Vegetable oil works well here.  I knew we were making Mexican Carne, so I kept some of the oil from the Pulled Pork.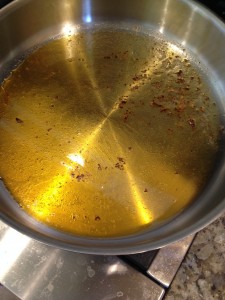 Add the peppers. And onions.
And saute them until they soften a little.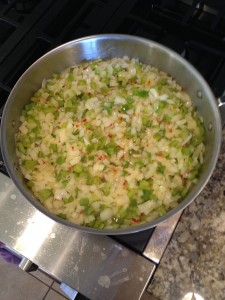 Add the shredded meat, and mix it in.
Then chop the tomatoes and add them.
Now you want to add a little more liquid, water or stock, etc.  Then simmer the entire thing, stirring occasionally, until it's texture changes.  Usually takes about 30-40 minutes, depending on how hot the simmer and how full the pan.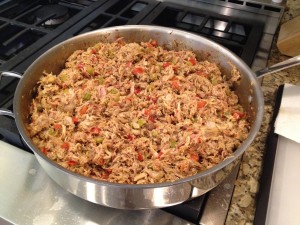 And that is what it looks like.  The photo doesn't do it justice.  It changes from a bunch of stuff in a pan to a meaty goodness.  Be patient; you'll know when it gets there.  Go ahead and taste it.  If you didn't use the Pulled Pork or a stock, etc, when making the meat, and didn't season the meat before this, the Mexican Carne will need salt and pepper added here.  But taste it first, don't over salt.
Serving Suggestions.  Roll it into a tortilla.  Add your favorite things like Queso Fresco, lettuce, sour cream, etc.  Put it on a salad.  Or hang over the kitchen sink and snarf it before the kinds show up to eat it all; and yeah, that rarely happens if you have more than one kid.
Mexican Carne
Prep time:
Cook time:
Total time:
Authentic Mexican Carne from Southern Mexico.
Ingredients
3 medium onions, chopped
2 green peppers, chopped
1 jalapeno pepper, finely chopped
3 Tablespoons vegetable oil
2-3 pounds shredded meat, beef, pork, or chicken
4 tomatoes, diced
Instructions
Saute onion, green peppers, and jalapeno pepper in oil until softened, about five minutes
stir in shredded meat, warm through
stir in diced tomatoes
simmer until everything changed texture and blends, 30-40 minutes. If it starts to dry, add some liquid that the meat was cooked in if available, or water
Add salt and pepper as needed.