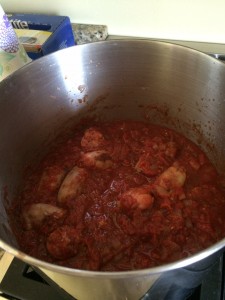 I think if we are to be honest with ourselves, most of us have had a love of a basic Red Sauce since we were too young to put a name to it.  I was enamored with Spaghetti-O's, Chef Boy-R-Dee Beef Ravioli, and even those way too cheaply made pizzas sold in the deli section of the local grocery store.  You know the kind not really frozen pizzas, but may have once been?  I could not get enough of them.
As I got older, I progressed to slightly better sauce, the kind in those jars in the Italian aisle.  If I was truly lucky, my mom would make a homemade spaghetti, but not often enough.  Not by far.
When I got out on my own, I discovered Olive Garden, Spaghetti Factory, and Brick Oven.  It was amazing what a good Red Sauce could taste like.  I discovered some white sauces, and even a lemon butter sauce (both still great sauces in their realms) but eventually I would return to the Red Sauce.
One day, in all my arrogance, I proclaimed "How hard could it be? There are only a few basic ingredients!"  I was then in for years of searching and experimenting for the right ratios of those basic ingredients.  Had I known then how much effort and time it would take me, I am not sure if I wouldn't just keep going to restaurants and work on other foods.  I am glad I did.  I think i am a better cook for the experience.
Don't get me wrong, I made some ok sauces, and I got to eat a lot of Red Sauces along the way.  I also made some sauce that was only good with Parmesano-Romano cheese.  A lot of cheese.  And really strong garlic bread.
I finally came upon some Italian sausages at the local Costco.  When mixed with the pretty good sauce I had been playing with, I ended up with something spectacular.  It had balance, nuance, and flair.  And it was pretty simple to make.
In other words, it was a truly great Red Sauce.
Dice the Onion.  Crush the garlic.  Grate the carrots.  Open the cans of tomatoes.  Brown the sausages.
I will warn you that this makes a good sized batch.  Feel free to cut it in half or even quarters.  And patience will reward you.  It is not a five minute recipe by any means, but will take several hours, depending on how high a simmer you have it.  If you do it higher, please stir more often; you don't want it burned, that's not good sauce.
Oh, and Food Handler warning.  I only brown the sausage before cutting it and adding it to the sauce.  Please follow safe practices and don't taste the sauce with undercooked pork or chicken in it; Once the meat is in, be patient and simmer it for a few hours before you taste test it.
Red Sauce with Italian Sausage
Prep time:
Cook time:
Total time:
I use the Torino Italian Sausages sold at Costco. They are really amazing in this sauce.
Ingredients
3 Tablespoons olive oil
1 medium or large onion, diced
5 cloves garlic, crushed
4 – 28 oz cans crushed tomatoes – or one #10 can crushed tomatoes
½ cup carrot, finely grated
½ teaspoon red pepper flakes
1¾ Tablespoon dried Oregano
1¾ Tablespoon dried Basil
1¾ Tablespoon dried Parsley
2 Tablespoons brown bugar (or to taste, sometimes up to 3 Tablespoons)
Salt and Pepper to taste (roughly 1 T salt and ½ t pepper)


20 Torino mild Italian Sausages
Instructions
In a large stock pot, saute the diced onion in olive oil until translucent, 8-10 minutes. Add crushed garlic and saute slightly (be careful to not burn it).
Add the tomatoes, carrots, and all the seasonings (the rest of the ingredient list, minus the sausages). Stir together, and set the burner for a simmer.
In a skillet, brown the sausages on all sides. It is OK if they are still raw in the middle, we just want them browned to add flavor. Cut them in thirds (depending on their size) and add to the sauce.
Simmer the sauce for 2-4 hours, stirring every half hour or so, then taste and adjust salt, pepper, and brown sugar as needed.