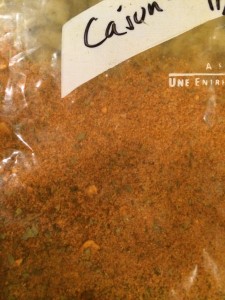 So my previous post about Blackened Cajun Chicken with the Fettuccine Alfredo needs the Cajun Seasoning listed.  Don't stop there, this mix can be used for all things Cajun!
I use this in my Gumbo.
I use this on shrimp to make Cajun Lettuce Wraps.  (Oh yeah!  A little of this on raw shrimp, drop them onto a hot skillet, and cook until the shrimp just barely looses that translucent, or clear, bit in the center.  Wrap in lettuce.  Eat.  Simple and delicious.)
Sometimes I just put a little on whatever needs a creole kick in the pants.
And it makes a lot, but a little goes a long way.  And it stores well for several months in a tightly sealed jar or freezer bag.  So what are you waiting for??  Go make some and enjoy it!
Cajun Seasoning
Cajun spice mix, a little goes a long way.
Ingredients
¼ cup salt
2 Tablespoons Cayenne pepper
2 Tablspoons paprika
1½ Tablespoons onion powder
1 Tablespoon ground black pepper
1 Tablespoon ground white pepper
1 Tablespoon garlic powder
2 teaspoons dried basil
1 teaspoon chili powder
¼ teaspoon dried thyme
¼ teaspoon ground mustard
⅛ teaspoon ground cloves
Instructions
put all spices into a zip top freezer bag and combine well.