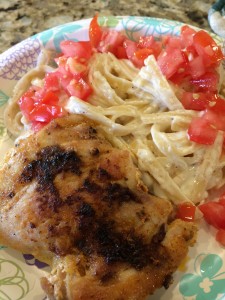 Who isn't a fan of Fettuccine Alfredo?  It's creamy, cheesy, warm, and delicious.  And it is such a simple perfection; how would you improve on it?
Easy.  Let people do with it as they want to.  Set out bowls of anything you can imagine would be good with Alfredo, and let people mix it up as they want.  Peas, broccoli florets, bacon crumbles, sauteed mushrooms.  My mouth waters just thinking about it.  But my favorite is always Blackened Cajun Chicken thighs and tomatoes.  Let the creamy Alfredo cool off the spicy cajun seasonings, with some ripe tomatoes to bring it all together.
To over simplify the experience, it's awesome!
Start by mixing up the cajun spice blend.
Pat the chicken thighs with a paper towel so they are somewhat dry.  Sprinkle some Cajun seasoning on it and slap it into a hot skillet.  The amount of spice used depends on your heat tolerance, but a gentle even coating will go a long way (more than you would salt it, less than a dry rub).  Cook them until they are cooked through, then turn up the heat a little and sear them until the spices turn a dark brown.  You can go all the way to blackened (as per the name) but I am not a fan of smoke in the house if I don't have to. 😀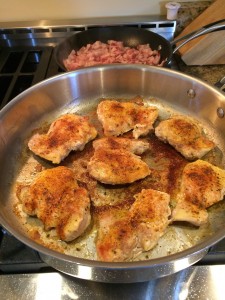 Now chop all the vegetables that you want and put them in individual bowls.  Don't forget to saute the mushrooms (if you like the fungus)!
Now make the Fettuccine Alfredo!  This part is usually last, because it cools quickly, and if it sits around it can resemble glue.  Don't worry if it does that!  You can plan for it!  Just keep about a cup of the water from cooking the pasta, and set it aside.  if the Alfredo gets too thick, you can add a little of the water and stir it in.  Like magic, it will be perfect again!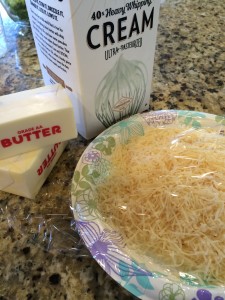 OK, we all know it isn't considered good for you.  But that's fine; just don't eat it every day, and eat it in moderation.  Yeah, there is an entire sermon in that statement, maybe later. 😀
Cook the pasta.  Save a cup of the water, and drain the pasta.  Then you put in the butter, and let it melt.  Toss the pasta in the butter.  Now pour in the cream, salt and pepper.  Toss the pasta in the cream.  Add the grated cheese and stir together over low heat, and watch it all come together.
Adjust for salt and pepper if you need to.  Don't be shy, as it can take more seasoning than you think.  Just taste it as you go; nobody likes salty Alfredo.  (Who am I kidding?  It would have to be like a salt-lick for me to stay away!)
Serve immediately, and let people mix and match whatever they want.  This one is my favorite.  You should go find what is yours.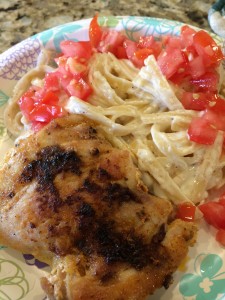 Fettuccine Alfredo
Prep time:
Cook time:
Total time:
Classic creamy Italian comfort food.
Ingredients
1 lb pasta, cooked and drained, still hot (saving 1 cup of it's water)
½ cup butter (1 stick), cut up
1¼ cup heavy cream
1 cup Parmesan-Reggiano Cheese, finely grated
salt and pepper to taste
Instructions
Add butter to the hot pasta. Allow to melt, and stir together.
Add cream, salt and pepper. Stir together.
Add Parmesan-Reggiano Cheese; gently stir together until it forms a cream sauce.
If sauce becomes too thick, add some of the water and stir.