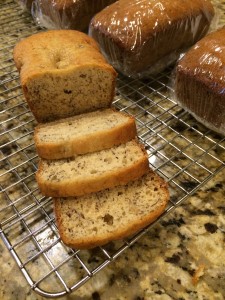 Mom's Banana Bread was always a special treat for us as kids.  It didn't happen very often, so when it did we would all run in and try to get the biggest piece. I think mom never made it often because my brothers liked bananas, and would eat them instead of being patient for them to fully ripen.  Banana Bread requires ripe bananas.  And I mean really ripe.  Dark brown spots, almost black spots, and all over the banana.  You should be able to smell it as ripe before you even peel it.
I, of course, am picky about bananas.  They should be yellowing at the store, but not bruised or mishandled, and once they are home you can keep them in a paper bag to ripen faster to the banana bread stage.
This recipe is simple to make, even for a beginner cook, and when served warm from the oven it has a slightly crisp top crust, and practically melts in your mouth.  Served cold (if it makes it that long), it is a great snack.
I usually mix it all by hand.  You can use a mixer, but try to not over mix the batter.  It turns out well with a few lumps still in it, and the mashed bananas not mixed so much as to be a fully even texture.  As with most foods, a little variation on texture and consistency can bring interest to the palette!

Mom's Banana Bread
Prep time:
Cook time:
Total time:
This is best if served a day after baking. Or right out of the oven while the top crust is slightly crunchy.
Ingredients
1 cup sugar
½ cup butter (one stick)
2 eggs, beaten
1 teaspoon baking soda
½ teaspoon salt
1 teaspoon vanilla
2 or 3 bananas, mashed
2 cups flour
1 cup chopped nuts (walnut or pecan) – optional
Instructions
Preheat oven to 325 degrees. Grease and flour the loaf pan.
Mix together sugar, butter, eggs, baking soda, salt, and vanilla. Add the bananas until blended. Stir in the flour until it comes together as a batter, similar in consistency to cake batter.
Bake between 1 hour and 1 hour 15 minutes, or until a knife (or toothpick) inserted into the center comes out clean. Cool 10 minutes in the pan, then remove the pan and cool on a wire rack until completely cool.