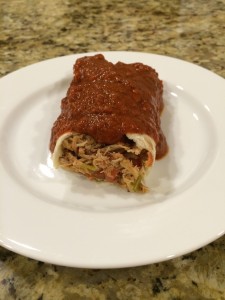 So we made the Mexican Carne yesterday for my wife's sister's family, who is in town visiting.  But we made way too much.  Like, several pounds too much.  And I love the stuff, so it is not a problem to eat it all week, except they have plans for the rest of the meals for the week.  And I do not dare upset the plans of the sisters, lest I not get to eat what they come up with.
So a new plan was needed.  And my beautiful wife came up with the idea of a freezer meal.  That's where you make the entire dish, put it in a disposable oven container, and put it in the deep freeze.  Sometime in the next couple of months, you then pull it out, put it in the oven, and voila!  You have a ready to eat meal that is better than a TV dinner.  only one question remained: what could we make out of the Mexican Carne that would freeze well, and heat well?
The answer tonight was Enchiladas!
So off the the wonderful internet to find a good enchilada sauce.  And we found one.  it is really good.  Check out the post over at Add a Pinch.
Of course I could not leave well enough alone.  So I adjusted it to better work with the pork version of the Mexican Carne.  Meaning I cut some of the sugar she has in there, and only used half the Chicken stock (and yes, you can use water if you don't have stick on hand).
Start by making a base similar to a French Roux, only thinner.  Combine the oil and flour in the pan, and put it on low to medium heat.  Whisk the entire time (about two minutes), to keep from burning, and to cook the flour a little bit (since nobody likes the taste of raw flour).  Once it no longer smells like flour, you can lower the heat and add the crushed tomatoes, spices, and whatever else is on the list.  Sauce will thicken fairly quickly when stirred together with the roux.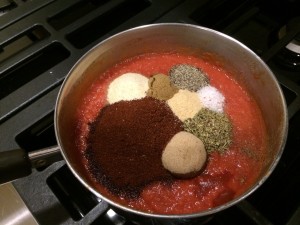 Stir it together and set to a low simmer for ten to fifteen minutes, stirring occasionally.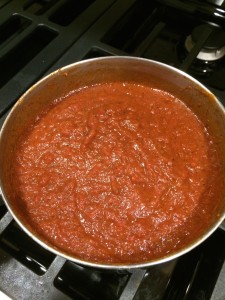 Taste and adjust the seasoning as needed.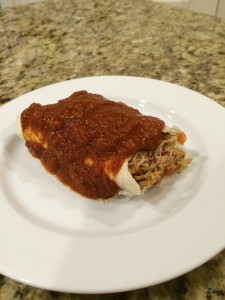 It really is quite tasty.
If you are making it into a freezer meal like we did, simply roll up the Mexican Carne in flour tortillas, line them side by side in a disposable pan, smother them in the Enchilada Sauce, and tightly cover the pan with aluminum foil.  Label it with a permanent marker, and put it in the deep freezer.  Whenever you choose to use it in the future, put it into a 350 degree oven for an hour, then check it.  If the center of the middle ones isn't heated through, put it back in the oven until it is.

Enchilada Sauce
Prep time:
Cook time:
Total time:
Truly Good Enchilada Sauce, adapted from http://addapinch.com/cooking/enchilada-sauce-recipe/
Ingredients
¼ cup vegetable oil
¼ cup all-purpose flour
3 tablespoons chili powder
½ cup chicken stock, or water
1 (28-ounce) can crushed tomatoes
1 teaspoon dried oregano
1 teaspoon cumin
1 teaspoon garlic powder
1 teaspoon onion powder
1 teaspoon packed brown sugar
½ teaspoon Kosher salt
1 teaspoon ground black pepper
Instructions
Mix together vegetable oil and flour in a medium saucepan. Put over medium heat and whisk constantly for two minutes, until you no longer smell raw flour.
Turn down heat and add crushed tomatoes, spices, and the remaining ingredients. Stir together.
cook on a low simmer for 10-15 minutes.
Taste and adjust spices as needed.