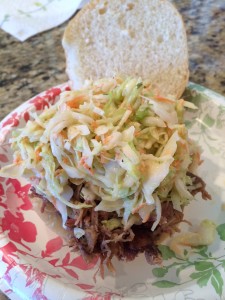 On the pulled pork entry that I wrote yesterday, I promised to post the coleslaw recipe.  It works really well with the pulled pork: the little bit of crunch of the cabbage and the slaw sauce blends with the smokiness and seasoning of the pulled pork to make something epic.  It is awesome!  Even if you are not a huge coleslaw fan, you owe it to yourself to try these together!
Why? Because you have done something extraordinary in the past day or so and deserve something wonderful.  Or you are about to do something really nice for one of your neighbors.  Or you are an amazing person at heart.  With slaw this good, you can become someone worth the awesomosity! (Ok, that may not be a real word, but it should be!)
I like a good coleslaw with pulled pork, so when I started making my own bbq pork it naturally became a challenge to make a slaw that would be worthy of it.  Of course, to that point, the best slaw I had ever had was at Tony Romas, or Kentucky Fried Chicken.  Ok, so they weren't perfect, but that had that something that would work with smoked and fried meats.
My first attempt at coleslaw was a vinegar based one, and it was proof positive that we all have failures in the road to success.  And it was nasty.  I obviously had no clue how to make coleslaw.  So I went on a research binge on the Internet.  What makes a good slaw? Why? And I ended up with four recipes that were all considered great by different groups.
So we made all four.  We quartered the recipes and then quartered a cabbage and made four different coleslaw.  It was a fair amount of work, but I really wanted a great slaw on my pulled pork.
They were all good.  We tasted them side by side, had friends try them, and I even took them to work and got various opinions.  We ended up taking bits from several of them and blending them to get the recipe presented here (with several recipes overlapping, but the one from Heather Likes Food more dominant than the others).  And we added more black pepper.  It's amazing how coleslaw really likes black pepper and still doesn't turn out peppery.
We have since served this to many people, with about half claiming they don't like coleslaw.  I tell them to try it anyway, and many of them end up having more.  It really is that good, to convince coleslaw naysayers to give it another try.
So give it a try.  You really do deserve this.
Start by making the sauce.  Mix until combined the vinegar, oil, pepper, salt, mayonnaise, sugar, and tarragon.  Set aside.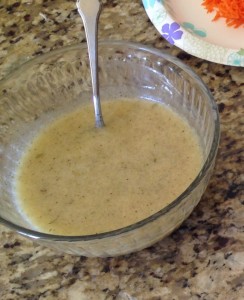 Prepare the vegetables.  I like to finely grate the carrots, and very thinly slice the onions into quarter crescents.  I then slice the cabbage until it is in small strips, about three quarter inch long and one eighth to three sixteenth inch wide.  Don't worry about it, though, as the sizes are very forgiving.  You just want to aim for what will make a good sized bite in the final product.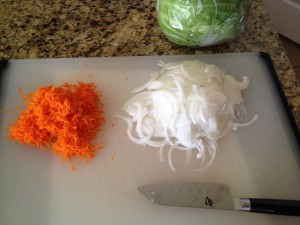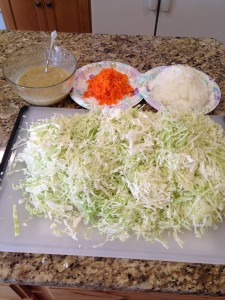 Once all the prep work is finished, layer the different vegetables and sauce in a large bowl.  I find that layering in about three batches makes it easier to mix together, but feel free to just dump it all into a large bowl if that's your style.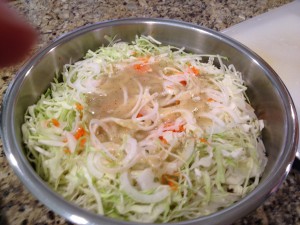 Now put on the gloves, and mix it all until everything is coated in sauce and you don't have any clumps of any one kind of vegetable.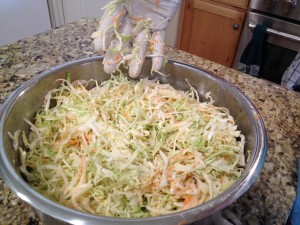 When it is mixed, put it into a gallon sized ziplock bag and into the fridge.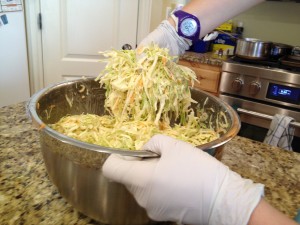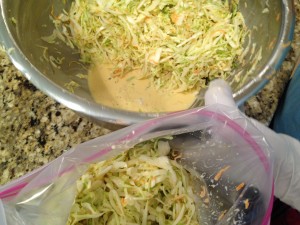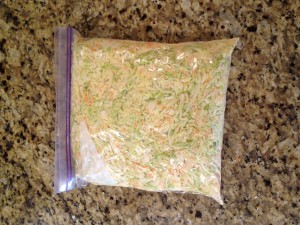 You can eat it in a couple of hours, but it is better the next day, and really great after two days.
It works really well on the Pulled Pork, as a side to many different foods, or just hanging over the sink with a fork and the bag.  Not that I would do that.  That would be silly.  🙂
Coleslaw
Adapted from http://www.heatherlikesfood.com/the-best-coleslaw-ever/
Ingredients
1 Tablespoon apple cider vinegar
2 Tablespoons canola oil
1 teaspoon black pepper
½ teaspoon salt
1¼ Cup mayonnaise
½ Cup sugar
½ teaspoon dried tarragon


¼ Cup sweet onion, grated or chopped fine
1 carrot, grated
1 head green cabbage, shredded
Instructions
Combine carrots, onion, and cabbage in a large bowl.
Combine vinegar, mayo, oil, sugar, tarragon, pepper, and salt and mix until smooth.
Pour dressing over cabbage mixture and mix well.
Store in the fridge in a non-reactive container, plastic bowl, etc. I personally use a gallon zip-lock bag.
This can be made a few hours before serving, but is better the next day, and considerable better on the second day.